We say on our home page that we are interested in unusual content of unusually high quality. But what does that mean?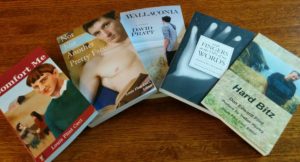 Beautiful Dreamer Press currently has five books to offer the reading public. Each meets our standards in a different way.
Comfort Me, by Louis Flint Ceci, is a lyrical young adult novel about coming of age in a small town in Oklahoma. What gives this novel its special qualities is that it is set in 1968 and early 1969 – in other words, before Stonewall – and that the adults in the lives of the three main teenage characters play as much a part in the story as their growing friendship.
Hard Bitz is a collection of poems by Vivekan Don Flint published after his death. The poems are mostly reconstructed from Flint's meticulous notes and numerous drafts, including a long meditation on the brain cancer that was killing him. Through Flint's use of humor, his deep ties to the natural world, his frank sexuality, and his spiritual struggles we see the joy of life shining before the inevitable darkness.
With Fingers at the Tips of My Words, by M. J. Arcangelini, is the first complete collection of poems by this important and passionate Northern California gay poet. They portray his struggles with his art, his depression, his family, and his loves, all anchored in direct language that glows as only the concrete imbued with spirit can.
Not Just Another Pretty Face, edited by Louis Flint Ceci, is an anthology that springs from photographs of San Francisco go-go boys. Each selection is paired with a photo of the dancer in question. Far from being strictly erotic, the stories, poems, essays, and drama in this collection explore the charged intersection of expectation and reality. The anthology crosses genres and literary forms to view the subject from multiple angles, proving that even a subject as seemingly obvious as go-go boys can have unexpected depths.
Wallaçonia, by David Pratt, is a contemporary coming-of-age story, but is not your typical YA novel. Its literary structure has more in common with Catcher in the Rye or Other Voices, Other Rooms. It is also one of the few novels depicting a healthy mentoring relationship between an older gay man and a teenager still trying to figure out his sexuality.
But this is just the start. Beautiful Dreamer Press is interested in continuing to explore the boundaries and interconnections between subjects and forms, present issues and historical precedents, dream and reality. Here are some of the books we'd like to publish:
A non-fiction collection of biographical and autobiographical essays about intergenerational couples in the gay community. How are the roles of younger and older partner seen by the couple themselves? How does that differ from how they are seen in the gay community and society at large? What are the special rewards that come from being an intergenerational couple, and what are the costs?
An anthology of stories based on dreams. Each story would be prefaced by a description of the dream itself, but how that dream is worked into the tale is up to the author and reader to discover together.
Tru-Romance, a collection of stories about romance in the age of Truvada and PrEP. Truvada was once infamously labeled a "party drug," but for those who use it daily it can have a much deeper impact on their emotional and romantic lives.
Books that break the bounds or cross the borders of standard genres: humor that is also literate, erotica that is also thoughtful, romance that ends in wisdom regardless of whether it ends happily.
Do any of these ideas interest you? Do you have ideas of your own about what you would like to see from Beautiful Dreamer Press? Let us know.
We are just beginning to wake the dreamers.