Welcome to the Home Page of
Beautiful Dreamer Press
and
Les Croyens Press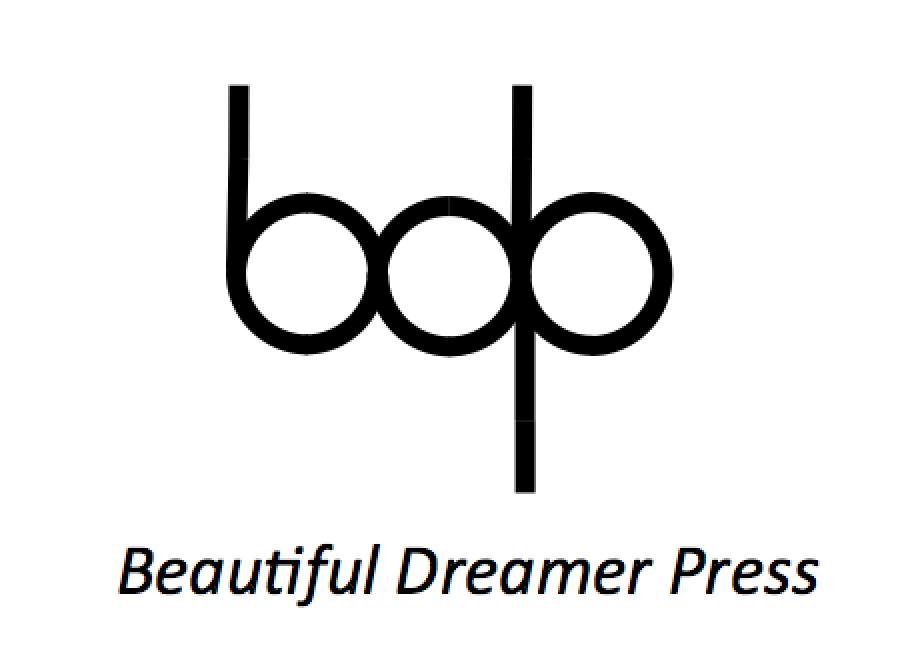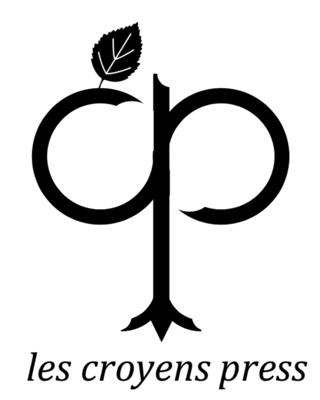 Coming Soon from
Beautiful Dreamer Press
(For the latest releases from Les Coyens Press, use the tab on the left)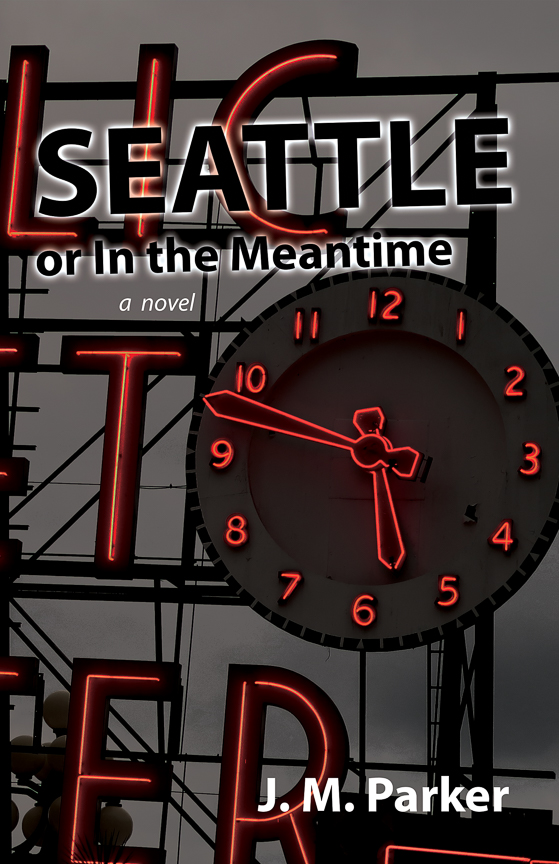 by
J. M. Parker
Now Accepting Preorders
"J. M. Parker has written a love letter to Seattle, and to the years where we figure out who we are and who we hope to be. At turns wry, funny, tender, and smart, the novel explores the earthquakes, literal and figurative, that shape us. Describing the main character's arrival in Seattle, Parker writes, Breathing air fresher and stronger than anything he's ever inhaled, he might be forgiven for thinking he's somehow driven into the world of his own imagination. Reading this book made me grateful to be driven into this world, and into this complicated, necessary journey." —Ruth Dickey, Executive Director, Seattle Arts and Lectures
"With keen observations that seem to define a time and place, J. M. Parker blends satire, love, and pain into a potent mix that keeps the reader engaged. Throughout, we are in the hands of an admittedly unreliable narrator who wanders through a landscape where he never seems to feel quite at home. . . The plot [is] a jumping-off point for ponderings on place, relationships, and feelings, and attempts to make sense of a world that's at odds with the narrator's slowly burgeoning sense of himself. Parker has a distinct voice that captures the zeitgeist and finds an equilibrium between direct storytelling and prose poetry. A strong portrait of its specific era and the eternal struggles of youth to find a place in the world." —Lewis DeSimone, author of Channeling Morgan
Grunge is dying, Kurt Cobain is dead, and Seattle is slowly but inevitably turning from a home for quirky misfits and cafe denizens into the self-absorbed tech giant it is today. Through a series of boyfriends, drugs, and odd jobs, 23-year-old Ian Bradford tries to find his way through the sometimes literal fog of his life. Aided by bizarre Quick and Easy Recipes for the Good Life left by his roommate, Ian guides tour boats, interns at a newspaper, and bikes documents through both upscale and seedy parts of town. The authentic self he pursues is both elusive and enticing. If he cannot find it, he may never find his voice as a writer, and never learn the difference between a well-crafted story and a convenient lie.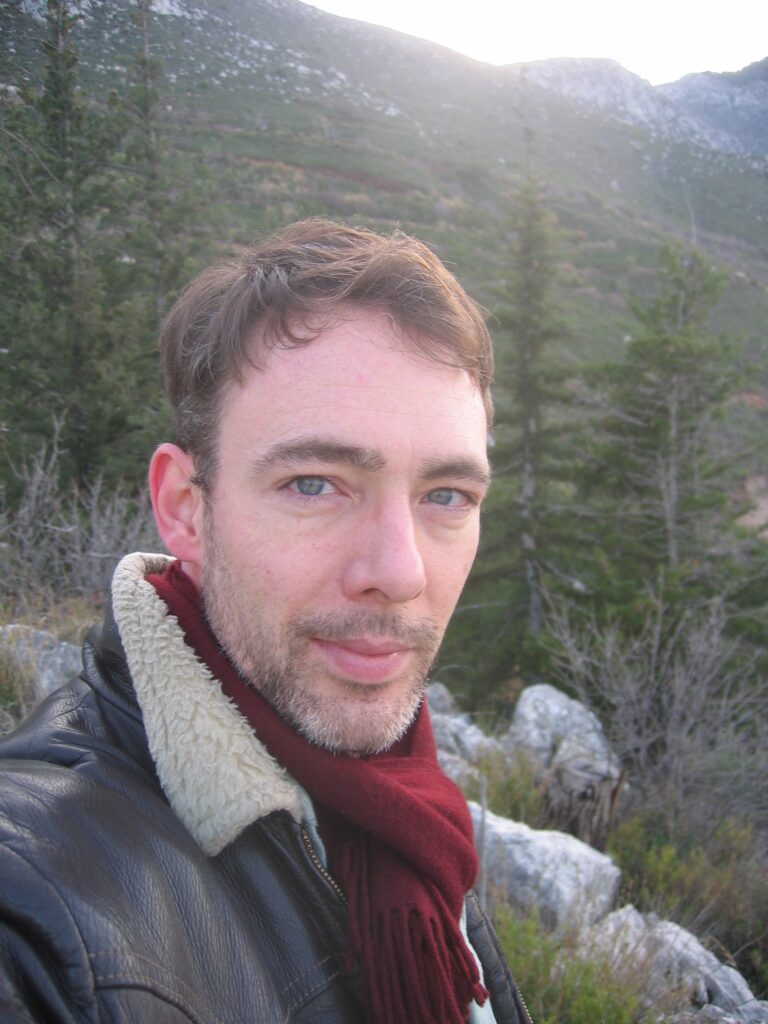 J.M. Parker's fiction has appeared in Callisto, Chelsea Station, Foglifter, Gertrude, ISLE, SAND, and Segue, among other journals, and has been reprinted in Best Gay Stories 2015. He is the author of A Budget Traveler's Guide to the Museums of Europe, a novel; and of Blossoms in Snow: Austrian Refugee Poets in Manhattan, a volume of translated poetry. He lives in Salzburg, Austria, where he teaches creative writing and American studies.
---
Current Releases
---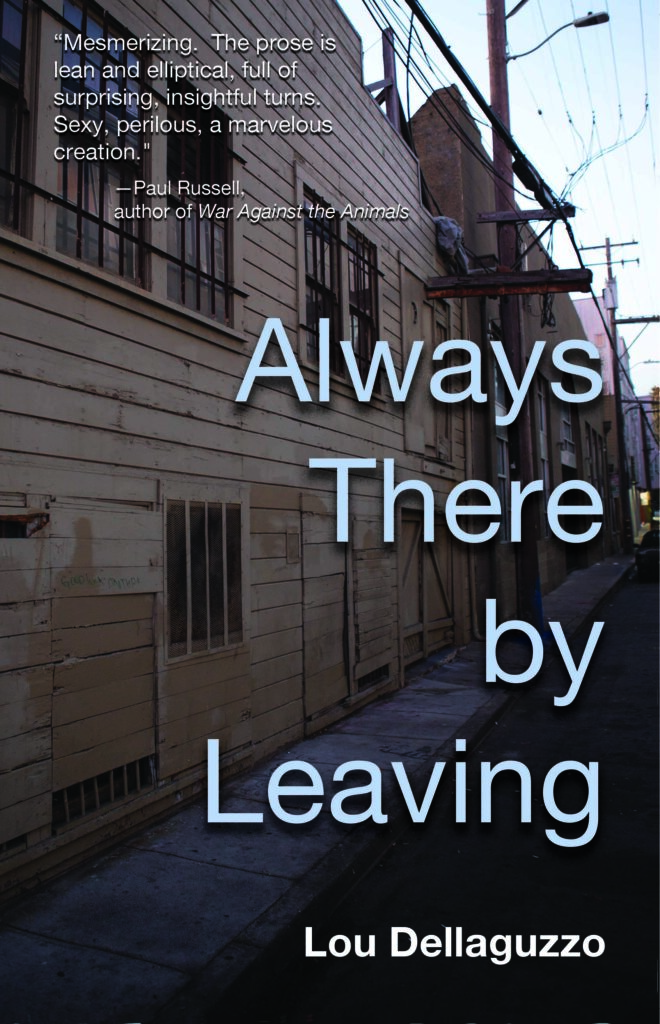 Always There by Leaving
by
Lou Dellaguzzo
Now Available
"Mesmerizing. The prose is lean and elliptical, full of surprising, insightful turns. Paul and Hal's suggestively drawn intermittent friendship darkly enchants. Newark and its inhabitants are vivid in their various degrees of ruin. Father and son scenes unfold in unexpected, superbly convincing ways. Sexy, perilous, lost Hal in particular is a marvelous creation. I hated to see this story end."—Paul Russell, author of The Unreal Life of Sergey Nabokov and War Against the Animals
At twelve years old, Paul has withdrawn from his school, his family, and even his own body. He barely connects with reality. Then he meets Hal, a mercurial kid who harbors guilt about his brother's arrest for a violent home invasion. Angry and lonely in different ways, the boys form a bond, first by fighting and then through a lasting, but unequal, affection—one constantly tested by Hal's risky behavior. Their exploits include a shoplifting scheme that goes terribly wrong, a fall while playing a dangerous game, and a police raid on a gay bar.
As Newark in the late 1960s decays around them, Hal's schemes escalate, ending in a botched drug deal that leads to deadly violence. Interwoven with the boys' adventures are scenes from Paul's dysfunctional family life with his acerbic mother and immature father, and the seedy and sometimes dangerous men willing to take advantage of boys lost to their families and hungry for true affection. Always There by Leaving is rich in incident and biting observations about class, family, sexual difference, urban decay, and passionate friendships.
Additional praise for Always There by Leaving:
"Lou Dellaguzzo's ability to create the atmosphere of Newark, New Jersey in the 1960s is magnetizing, with prose that is at once appropriately raw and soaringly poetic. . . . [He] has firmly arrived in the company of our finest authors. This is one exceptionally fine novel. Very highly recommended."—Grady Harp, Amazon Reviews (five stars)
"Lou Dellaguzzo has crafted a gritty coming-of-age novel that rings true on every page. Through the story of two working-class kids in 1960s New Jersey, Dellaguzzo offers a vivid portrait of a time and a way of life that are distinct in themselves and yet universally resonant. The plot, revolving around the compelling character of Paul, a teenager who falls under the spell of a seductively dangerous classmate, highlights the challenges of growing up gay in the pre-Stonewall era. With a strong ear for dialogue and characters who jump off the page, this book feels genuinely lived, unadorned by the rose-colored lenses of nostalgia."—Lewis DeSimone, author of Channeling Morgan
"In a story of troubled friendship reminiscent of John Knowles' classic A Separate Peace, Lou Dellaguzzo's Always There by Leaving follows Paul and Hal through a decaying 1960s Newark, New Jersey, where the two ostracized adolescents' alliance begins with a fist fight and grows with fits and starts of sexual tension, dangerous dares, and deadly consequences. Dellaguzzo captures the dynamics of working-class characters, teenage angst, dissociation, and relationship turmoil with a sharp, passionate style all his own, rendering a coming-of-age story of two unlikely friends who find in the other an unlikely hero, and a novel today's readers will find a new classic."—Chip Livingston, author of Crow Blue, Crow Black and Naming Ceremony
Order it now from Beautiful Dreamer Press.
Paperback, 5.5″ x 8.5″, 310 pages: $16.95 plus shipping and handling
ISBN 13: 978-0-9708310-4-0.
Release date: April 1, 2020
Also available in Ebook format.
---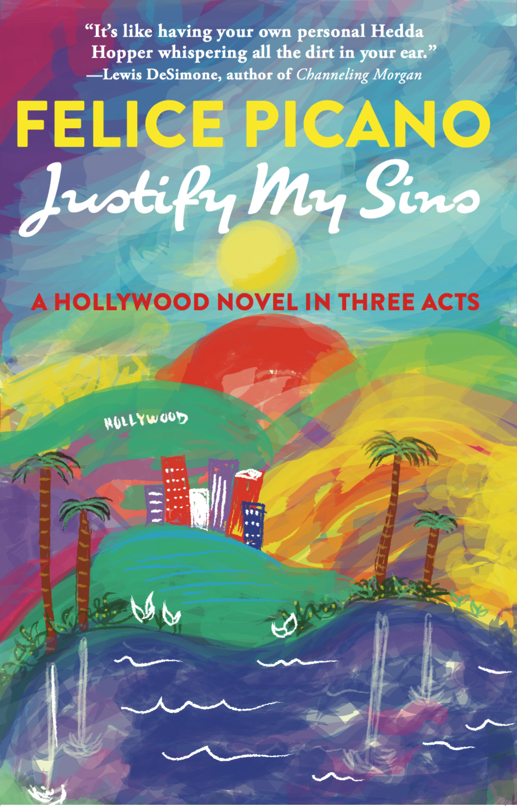 Justify My Sins

A Hollywood Novel in Three Acts
by
Felice Picano
Advance praise for Justify My Sins:
"What fun! A New York author goes to Hollywood to try to turn his best-selling books into movies. Felice Picano gives us an inside look at the filmmaking business, plus a slice of gay life in Los Angeles and enduring friendships from the '70s and beyond, with sexy side trips to Palm Springs and San Francisco. Justify My Sins is jam-packed with cameo appearances by big name stars and quirky character extras, all with juicy stories of their own. A delicious read." —Mark Abramson, author of Farm Boy: A Memoir with Recipes
In Justify My Sins, Felice Picano's fast-paced romp, a libidinous New York novelist gets seduced by Tinseltown—in more ways than one. From the hedonistic 70s to the sadly corporate movie business of today, Picano offers delicious dish on the mores and shallowness of Hollywood, with more than a few cameos by real stars. It's like having your own personal Hedda Hopper whispering all the dirt in your ear. With snappy dialogue and sharp-as-manicured-nails satire, Picano brings the world of starlets, Oscar parties, and the occasional orgy to vivid life."—Lewis DeSimone, author of Channeling Morgan
Victor Regina should be perfectly happy in Manhattan. His novels are best sellers, he has a kick-ass agent, and the upcoming Black Party at the exclusive club Flamingo promises to be a cornucopia of gay desire. But New York is hard. The city is gripped by a winter that won't quit, and although he has plenty of dishy friends, there is no lover in the picture. When his agent calls with an offer from Hollywood to adapt his latest novel, Justify My Sins, for a famous director, he jumps at the chance.
In "El Lay," the sun is warm, the food is fantastic, the men are plentiful and eager. It's all so easy. So easy, in fact, that Victor begins to suspect there's nothing quite real about it—not the quick affairs, not the luxurious cars and ostentatious architecture, and certainly not the film script or scenario or treatment or whatever the hell it is everyone expects him to write. He begins to long for NYC, hard but real.
Noted names and events of the 1970s, '80s, and '90s intermingle with celebrated triumphs and private tragedies in this hilarious roman à clef with a heart. In his first novel in over fifteen years, Felice Picano exposes the clash between celebrity and integrity, the rivalry between love and lust, while showcasing the grittiness of Manhattan and the voluptuousness of Hollywood. Through disastrous production meetings, steamy sex clubs, and encounters with friends who grow old, or strange, or both, Victor tries not once, not twice, but three times to find authenticity and contentment in a life that, while perhaps never fully justified, is fully lived.
Get your copy of Justify My Sins from Beautiful Dreamer Press.
Paperback, 6″ x 9″, 352 pages: $19.95 plus shipping and handling
ISBN 13: 978-0-9981262-8-9
---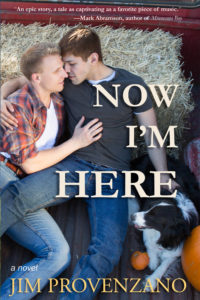 Now I'm Here

a novel
by
Jim Provenzano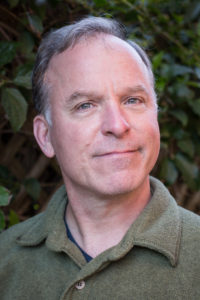 Advance praise for Now I'm Here:
"Here is a novel of such sweep and breadth that to call it simply a love story is inadequate, even while the love of David and Joshua at the heart of the book resonates so deeply that I could not stop reading their tale. Provenzano is one of our masters; like his character Joshua, he is a kind of musician. The instrument he plays on is the heart, and the story of these men rings true for all of us who lived through these years." —Jim Grimsley, author of Dream Boy and Winter Birds
"Jim Provenzano has again created characters that a reader can't help but fall in love with. This is an epic story, a tale as captivating as a favorite piece of music, a beautiful book."—Mark Abramson, author of Minnesota Boy
". . . a haunting page turner. Provenzano fearlessly navigates—with wit, unflinching candor, and a detective's tenacity—that deepest mystery: first love, with all its euphoria, madness and wreckage. Gorgeously written, Now I'm Here stands alongside the best of Edmund White and Andrew Holleran. I could spend a year with each sentence." —Adam Tendler, pianist, composer, author of 88×50: A Memoir of Sexual Discovery, Modern Music and the United State of America 
Jim Provenzano's latest novel, Now I'm Here, is set in the the small town of Serene, Ohio, in the 1970s and '80s. Two boys from different families—Joshua, with his stable middle-class home in town, and David, raised by his alcoholic and abusive father on their pumpkin farm—discover, then lose, then find each other again. Thirty years later, as the town's history is slowly erased by fading memories and encroaching suburbia, their childhood friend, Eric Gottlund, tells the nearly mythic tale of their courage with poignancy and a sharp eye for detail. Fighting religious intolerance, "rehabilitation therapy," the lure of fame, and the heartbreak of AIDS, the two boys grow into men before our eyes. Through their love of each other and of rock'n'roll—the English band Queen in particular—Joshua and David breathe life back into their home town, if only for a while.
Now I'm Here is available from Beautiful Dreamer Press and also from Amazon, Barnes and Noble, and IndieBound.
Paperback, 5.5″ x 8.5″, 362 pages: $17.95 plus shipping and handling
ISBN 13: 978-0-9981262-6-5
---
 
Channeling Morgan
by
Lewis DeSimone

"DeSimone's satirical take on gay life, city life, and the world of the struggling writer is a departure from his two previous books, lyrically written stories about the serpentine nature of gay romance, identity, and connectedness. Here he breaks the mold to produce a fun, frolicsome beach book with compelling characters, addictive storylines, fabulous writing, and even the supernatural advice of E.M. Forster. This is terrific work from a local writer who continues to impress."—Jim Piechota, Bay Area Reporter Online
"DeSimone's voice is full of wry asides, irony, and captures perfectly the banter of long-time friends and the absurd paradoxes of modern life. . . . As a send-up of publishing, literary workshops, Hollywood hypocrisy, and Manhattan A-list Gays, Channeling Morgan makes compulsive reading—come for the story, but stay for the truth."—Keith John Graeske, Out In Print: Queer Book Reviews
"Channeling Morgan is everything you want it to be: romantic and sexy and funny and wise—with Noel Coward levels of cocktails and barbs. Lewis DeSimone has created a book whose pages fly past with such velocity that they seem to evaporate in your hands. It's everything that delights."—Vinton Rafe McCabe, author of Death in Venice, California
"Discovering a new excellent writer is one of the joys of reading that reigns at the top of the reasons why we read books. Lewis DeSimone's earlier Chemistry and The Heart's History are novels that are at once intelligent, informed, eloquent, erotic, thought provoking, profound, sensitive—and important. . . . Now he gifts us with a new novel that not only maintains his stature on the stage of important American authors, but assures us of his continually growing talent."—Grady Harp, Amazon Reviews (5 stars)
Every writer needs a voice. For Derick Sweetwater, it's usually someone else's. Hoping to shed his mantle as ghostwriter to the stars, Derick escapes to Provincetown to work on a novel—only to land his biggest client yet: Clive Morgan. Morgan is a studly movie star with a secret who hires Derick to write his autobiography and "tell all." But a creepy New Age cult has its designs on Clive, and Derick's new boyfriend has a secret of his own that tests Derick's commitment to honesty. In Lewis DeSimone's witty, fast-paced satire, the literary world collides with Hollywood mores, Manhattan drag queens, and the occasional ghost—all as Derick tries to sort out his life while Channeling Morgan.
Lewis DeSimone is the author of the novels Chemistry and The Heart's History. His short stories have appeared in Chelsea Station, Christopher Street, The James White Review, and numerous other anthologies, including 2016's Not Just Another Pretty Face from Beautiful Dreamer Press.
Available from Beautiful Dreamer Press, Amazon, Barnes & Noble, and IndieBound.
Paperback, 5.5″ x 8.5″, 324 pages: $13.95 plus shipping and handling
ISBN 13: 978-0-9981262-0-3
---

Gay Zoo Day:
Tales of Seeking and Discovery
by
Mike McClelland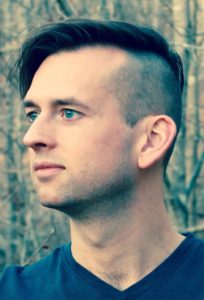 "Mike McClelland's writing is like the love affairs he writes so lovingly about: urgent, intimate, and sometimes sordid, yet always attuned to the smaller gestures and details."—Ben Tanzer, author of Be Cool and Orphans
"Magically imaginative. . . . Not only are the themes unique and spectrum of feelings immense, but the quality of prose is outstanding."—Grady Harp, Amazon Reviews (5 stars)
"McClelland is a wonderful writer, able to evoke emotions with locales as well as characters. Gay Zoo Day is a solid collection, and yet another winner from Beautiful Dreamer Press."—Jerry Wheeler, Out in Print
Gay Zoo Day: Tales of Seeking and Discovery is an anthology about gay and lesbian voyagers seeking a way out of the constraints of their time and place. Eight stories explore themes of love and alienation, race and gender, class and privilege. Using the map of the world to explore the map of the heart, the stories roam from colonial Kenya to an embattled embassy in Yemen, from a haunted winery in upstate New York to the International Space Station. McClelland's characters arrive at their inevitable destinations across landscapes of love, death, violence, ambition, and sex. Some seek deliberately, some stumble blindly, but all find more than what they were looking for.
Available from Beautiful Dreamer Press, Amazon, Barnes & Noble, and IndieBound.
Paperback, 5.5″ x 8.5″, 270 pages: $13.95 plus shipping and handling
ISBN 13: 978-0-9981262-2-7
---
Wallaçonia
a novel by
David Pratt
Now available as an audio book from Audible. Click the image below to order.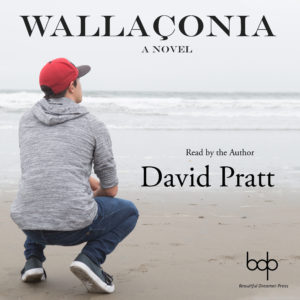 As read by the author
"Keenly and precisely, Pratt depicts the voyage of a boy who wins his own sense of manhood. With Wallaçonia, readers are treated to a wonderfully written, original coming-of-age tale. Jim isn't merely coming out of the closet. Jim is becoming . . . Jim."—Michael Greaves, Lambda Literary Review
"Sharp, focused, super-intense, and special. It's rare to find a novel with such a beautifully rendered friendship between a young gay man and an older mentor. I know I'll remember the relationship between Jim and Pat for a long, long time."
—Bill Konigsberg, author of Openly Straight and The Porcupine of Truth
"Moving and funny. The confusing tumble of coming out gets a contemporary twist as a teenage boy struggles to grow up and away from his New England home. Aided by an older mentor and a former victim of his own bullying, Pratt's earnest and decent narrator learns to accept himself and his flawed but loving family."
—Jim Provenzano, author of PINS and Every Time I Think of You
All Jim Wallace ever wanted was to be normal. Now he is turning eighteen and he and his girlfriend, Liz, may finally have sex. He can put aside the imaginary refuge of Wallaçonia and become the "upright and sterling" young man everyone expects him to be. But then his neighbor asks for help in his bookstore during the holiday rush, and the things Jim finds there and the people he meets—especially one from his own past—make him realize who he really is and what he must do.
By David Pratt, author of Looking after Joey; the short story collection My Movie; and the Lambda Literary Award-winning novel Bob the Book.
Available from Beautiful Dreamer Press, Amazon, Barnes & Noble, and IndieBound.
Paperback, 5.5″ x 8.5″, 270 pages: $13.95 plus shipping and handling
ISBN 13: 978-0-9981262-0-3

---
Backlist
---
Not Just Another Pretty Face
An anthology of striking photographs and the stories they inspire.
Edited by Louis Flint Ceci
Photographs by Dot
Finalist in the 2016 Rainbow Book Awards, the 2016 Independent Publisher Book Awards, and the 2016 Foreword INDIES Book of the Year Award in LGBT fiction. Winner of Honorable Mention in the 2016 Foreword INDIES Book of the Year Awards in Erotica.


"All of the eroticism, mystery, creativity, and smoldering desire embodied by adult male exotic dancers come to life in Not Just Another Pretty Face. There are many enticing pieces in this collection, which embraces the beauty of the male body, and celebrates the work of dancers and the rewards for those who watch and fantasize."
—Jim Piechota, The Bay Area Reporter

"The stories, poems, and plays that accompany the images are excellent—fine
gay fiction . . . Recommended for a broad audience."—Grady Harp,
Amazon Reviews (5 stars)
"This isn't merely erotica—it takes its subject matter more seriously than that. It's a solid, thought-provoking collection."
—Brent Hartinger, author of Geography Club
Paperback with black & white photos: $16.95 plus shipping and handling
ISBN 13: 978-0-9708310-6-4
Paperback with color photos: $30.00 plus shipping and handling
ISBN 13: 978-0-9708310-7-1